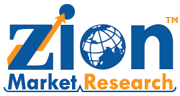 Sarasota, FL -- 12/07/2017 -- Zion Market Research has published a new report titled "IoT Sensors Market (Accelerometers, Light Sensors, Pressure Sensors, Temperature Sensors, Magnetometers, Gyroscopes, Others) for Healthcare, Retail, Industrial, Automotive, Consumer Electronics, Building Automation, and Other Applications: Global Industry Perspective, Comprehensive Analysis and Forecast, 2016-2022". According to the report, global IoT sensors market was valued at around USD 7.51 billion in 2016 and is expected to reach approximately USD 27.38 billion in 2022, growing at a CAGR of slightly above 24% between 2017 and 2022.
Request Free Sample Research Report @ https://www.zionmarketresearch.com/sample/iot-sensors-market
(Purchase Single User License at $4199)
IoT is an emerging array of software-controlled sensors and other devices that allow machines to communicate with each other. By IoT sensors, efficiency machine performance can be tracked and allows for predictive maintenance that avoids costly breakdowns or inefficient routine-maintenance shut-downs. Hence IoT sensors play important role in IoT technology.
A surge in demand for IoT sensors in the automotive industry and the booming industrial IoT market are strongly driving the growth of the IoT sensors market. Furthermore, the rise in demand for consumer electronics such as smart devices (Smart TV, Smart Phones, etc.) is further impelling the market growth. Increasing sales of consumer electronics are fueling the growth of the IoT sensors market worldwide. In addition, smart electricity, and water meters are anticipated to spur demand for these sensors over the next few years. The conjoint effect of all these trends is set to bolster the growth of the global IoT sensors market in coming years. However, privacy and security issues are hampering the growth of IoT sensors market.
Stringent government regulations and policies are encouraging the development of "smart cities" and this is offering a significant growth opportunity to the global IoT sensors market. IoT sensors are used in smart cities in smart grids, smart meters, intelligent traffic management systems, and smart parking among others. Moreover, technological advancements in the healthcare industry are set to offer the extensive opportunity for the escalation of the IoT sensors market.
Inquiry more about this report @ https://www.zionmarketresearch.com/inquiry/iot-sensors-market
Type segmentation of IoT sensor market includes pressure sensors, temperature sensors, accelerometers, gyroscopes, magnetometers, light sensors and others. On the basis of application, the IoT sensor market is fragmented into building automation, healthcare, automotive, retail, consumer electronics and others. Consumer electronics application segment is expected to hold a large share of IoT sensors market due to high adoption of different consumer electronics devices worldwide.
The IoT sensors market has the enormous opportunity and scopes in the emerging markets of Asia-Pacific and Rest of the world. The emergence of new players in the developing markets such as China, Japan, India, Russia, Australia, and Brazil are trying to adopt advanced technologies. This has led the increase in competitiveness in the IoT sensors market.
Key participants in IoT sensor market are Infineon Technologies, InvenSense Inc., Libelium, ARM Holdings Plc., Robert Bosch GmbH, Digi International Inc., Honeywell International Inc., STMicroelectronics N.V. andEricsson among others.
Browse the full "IoT Sensors Market" report at https://www.zionmarketresearch.com/report/iot-sensors-market
The report segments global IoT sensors market as follows:
Global IoT Sensors Market: Type Segment Analysis
Temperature Sensors
Gyroscopes
Accelerometers
Pressure Sensors
Light Sensors
Magnetometers
Others
Global IoT Sensors Market: Application Segment Analysis
Automotive
Healthcare
Consumer Electronics
Building Automation
Industrial
Retail
Others
For Media Inquiry contact our sales Team @ [email protected]
Global IoT Sensors Market: Regional Segment Analysis
North America
Europe
Asia Pacific
Latin America
The Middle East & Africa
Information contained on this page is provided by an independent third-party content provider. This Site make no warranties or representations in connection therewith. If you are affiliated with this page and would like it removed please contact support [at] perpetualwire.com.