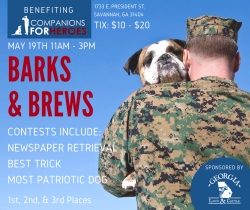 Savannah, GA, April 07, 2018 -- Infield Media & Promotions has partnered with Companions for Heroes and Georgia Land & Cattle to present and promote a Fundraising Event called "Barks & Brews." This event will be held on May 19th at 1733 E. President St, Savannah, GA 31404.
The event will be held from 11:00 AM to 3:00 PM.
This important fundraiser is being presented in support of the "Companions for Heroes" (C4H) program. Funds raised will go directly to C4H.
The C4H program was founded in 2009 and has a mission of pairing shelter and rescued animals with the 1% of our nation that volunteer to be public servants and place themselves in harm's way who are challenged with PTSD and dealing with the experiences they have had protecting our way of life. Throughout C4H's years the program has aided over 7,000 of America's Bravest, and found caring homes for numerous shelter animals.
The day of festivities will include special guest speakers, the opportunity to meet other veteran run businesses and programs, C4H dogs and veterans, including canine demonstrations. There will be plenty of food available at the event along with select brews. Dogs are welcome at the event and there will be contests held for willing canine participants to include a Newspaper Retrieval, Most Patriotic Dog, and Best Trick. There will be three awardees in each category.
Admission to the event will be $10 per person and includes a raffle ticket and a bandana or $20 to add two beer tickets. Tickets can purchased in advance via the website at:
http://companionsforheroes.org/c4h-events/
Tickets may also be purchased at the event for $20. All proceeds above cost go directly to C4H.
About this important benefactor and why it is important to attend this event.
C4H is committed to providing a shelter or rescue animal (companion) to the active duty service member, military veteran, law enforcement officer, first responder and their family member that do not have a companion in their life.
Companions for Heroes (C4H) provides companion animals obtained from shelters and/or rescues, who might otherwise be euthanized, free of charge to active duty military personnel, military veterans, and first-responders recovering from the psychological challenges they suffered during service to our country. C4H increases public awareness of Post-Traumatic Stress Disorder (PTSD), traumatic brain injury (TBI) and other challenges confronting our country's heroes; and rally's support for animal welfare and the adoption of shelter and/or rescue animals.
C4H is a non-clinical and non-facility based organization that places special emphasis on creating mutually beneficial opportunities for shelter and rescue animals, some who might otherwise be euthanized, and our nation's service men and women by accessing the expertise of medical care professionals and animal welfare organizations. C4H is an Animal Assisted Activity (AAA) program that recognizes the incredible power of the human-animal relationship and seeks to support those suffering from psychological stress as they pursue recovery with the unconditional love of a pet.
C4H (Companions For Heroes) is a registered 501(c)(3) nonprofit organization. C4H's federal ID number for donations is: #27-0648741. If you cannot attend but would like to donate you may do so through the C4H website at
companionsforheroes.networkforgood.com.
The Georgia Land & Cattle story: Daniel Merritt, a Major in the United States Army Reserve with 15 Years of service in The Army. He served in Iraq and Afghanistan and after his last deployment he left the Active army in 2013. After leaving active duty he co-Founded Nine Line Apparel and helped grow Nine Line into an amazing Veteran Owned Brand with the worlds best employees (The "Barks & Brews" event is being held at a Nine Line Apparel location). Recently Daniel and his wife Sarah decided to start another amazing brand in a completely different field. They wanted to create a company that was near and dear to their hearts and represented our lifestyle. The result was Georgia Land & Cattle 'A Southern Lifestyle Company" to support Local Farms, Local Businesses, and Local People here in the Coastal Georgia Area. Daniel says, "I think you will find that we have just the right gift for just about any occasion, for just about anyone you can think of. Even those friends and family who are impossible to shop for, we have you covered." From Grass Fed Filet Mignon, to Savannah Southern Honey Roasted Coffee, to Home Decor Items made from the finest Southern Pine, we think we can make an impression that will last forever.
Infield Media & Promotion, Inc. provides contracted PR and Marketing to Veteran Support Organizations. For press inquiries about this event please contact Ms. Cecillia Lin at [email protected] or 336-365-6624.
Information contained on this page is provided by an independent third-party content provider. This Site make no warranties or representations in connection therewith. If you are affiliated with this page and would like it removed please contact support [at] perpetualwire.com.