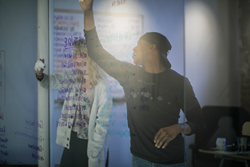 Smith (left) and Burrage (right) share ideas on ways to exhibit the company culture at PlanOmatic.
DENVER April 07, 2018
PlanOmatic's focus on culture has fostered an environment that welcomes open communication in the Denver workplace. Stephanie Smith, Culture Lead, said, "We hire people that teach us something new and help us improve our products, workflows and processes. We look for genuine individuals that care about their work, one another and our clients."
Burrage, Training Lead, agreed when he said, "PlanOmatic attracted me as a space where I could be my whole self. I could contribute my passions and ideas, relate to my colleagues on real levels, and comfortably express myself."
Supporting PlanOmatic's goal to help its people win, Burrage will assume responsibility for the task of internal personnel development and education. Burrage joins the team with a background in academia and communication facilitation.
Maloney, Marketing Manager, continues to contribute a progressive, digital marketing, concentration to the notoriously delayed real estate industry at PlanOmatic. She has more than six years of experience in the field, most recently focused on the single family residential institutional investment sector.
Barringer, Client Experience Manager, comes to PlanOmatic after 15 years of working for real estate brokerages where she demonstrated extensive knowledge in systems creation, efficiency, and execution of operational strategy. At PlanOmatic, Barringer will lead the Denver based client experience team to exceed customer service goals in 2018.
Gerstenkorn joined PlanOmatic in 2017 after holding several senior finance roles in her 20-year career. She has been promoted to CFO after 9 months as Controller where she quickly proved her council to be invaluable to both leadership, and the growth of the company.
Kori Covrigaru, PlanOmatic CEO, said, "We hire individuals who bring a fresh and creative perspective to how we do business, while contributing to the fun and supportive atmosphere that we have created. Our employees make this company a truly unique place to work and their positivity contributes to our ultimate goal– providing an unmatched experience to our clients."
About PlanOmatic
PlanOmatic provides the real estate industry with marketing services, including photography, interactive floor plans, virtual staging, aerial photography, 3D walkthroughs and digital marketing. With a network of 130 photographers in 32 states and an automated ordering process, PlanOmatic is positioned to be every brokerage office's marketing solution for every listing. Founded in 2005 and headquartered in Denver, PlanOmatic serviced more than 73,000 properties nationwide in the past year alone. The company has been named the last three consecutive years as one of Inc. 5000s "America's fastest growing companies."